As previously mentioned I ventured back to my old stomping grounds of Huntsville, TX. Sam Houston, it was GRAND. Literally I graduated a year ago, May 12, 2012. CRAYYYY How much my life has changed since then. CRRAAAYYY How much I went through to get here. If you supported my blog since ... forever you saw me at my worst. In my last semester you saw me panicking over classes, an awful internship at a horrible boutique, dealing with my mom getting cancer. This time last year I just graduated and I was excited but didn't know what was next. I thought my life was just sad. Well, I found a job that turned into a dream job, my mom is cancer free (PS happy mother's day!), I obviously made it out with bachelors in hand.
As for the 2013 class graduates I just want to say, it's going to be scary, but everything happens the way its supposed to. Keep trying, and don't take no as an answer. You can always find a way, and you and always create your own opportunities.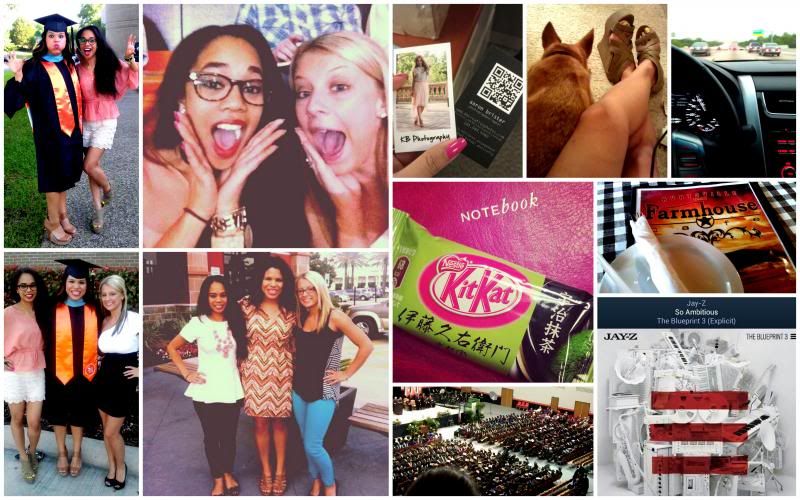 LtoR: My reason for visiting, my bestie graduated with her masters. //We were so proud// I'm on my photographer friends business cards. DOPENESS.// LOL, my friend's dog AKA my nephew just chillin. It happens. // Road trippin. It happens.// More grad happiness// Us three at BJS. They have some dope pizzas and OMGGGGG tripple chocolate pizookie was the death of me// OMG this girl at work gave me a green tea kitkat from Japan. Umm, two favorite things on earth put together. // I missed Farmhouse. LIKE ALOT. // Sea of caps and gowns// Jay-Z "So Ambitious" LIFE THEME SONG YO.
SOOOO My number one question this weekend was "Where do you find time to do all of this?" Yes I have a corporate job
but
yes I blog, and YES.... I just signed a contract to blog for a a MAJOR fashion authority here in Houston. Where do I find the time? I make time. I don't really sleep. Yes you will see me yawn at least 5 times an hour. I'm still young, I can still push my body to it's limits. I have never heard of anyone who was giving a motivational speech start out with "I remember getting really great sleep that one night." I'll change my perspective one day but my philosophy is "I'll stop when it stops being fun."
I'm still having fun.
Lots of things are on the horizon!