BET FASHION RECAP
SO last night was the BET Awards and wow were there some hits and misses. On the red carpet it was almost like everyone heard about it last minute and showed up wearing whatever.
Cases in point:
Nicki, where's the glam? You know its hot outside? Your typical barely there outfits would be fine!
Noone would stop talking about Keri Hilson's... hair? Wig? Whatever it is... He outfit is ok, and she TRIED to colorblock witht he necklace, unsuccessfully.
Worst of the Worst has to be Rick Ross, who wasn't really wearing anything:
Sorry you had to see that... Again.
And Chris Browns pants. Chris has a night of ups and downs, and the mix up at the end was really messed up! BET should be ashamed of themselves. But none the less, I still have no excuse of any of Chris' wardrobe.
WHO LOOKED GOOD?
Lala Vasquez Looks great in Tom Ford, I just wish her hair is in a high pony tail instead of this bun thing.
Eve also looked great rocking all leather, and it seems a lot of other females rocked this similar look, all black with a baroque inspired necklace.
I Couldn't round out best dressed without a pic of Diggy. He really did rock not only the carpet but his performance as well!
On the stage Kelly Rolland had the best performance (In my Opinion, besides Beyonce, but Bey was in Glastonbury) I just wish she wasn't wearing this hat.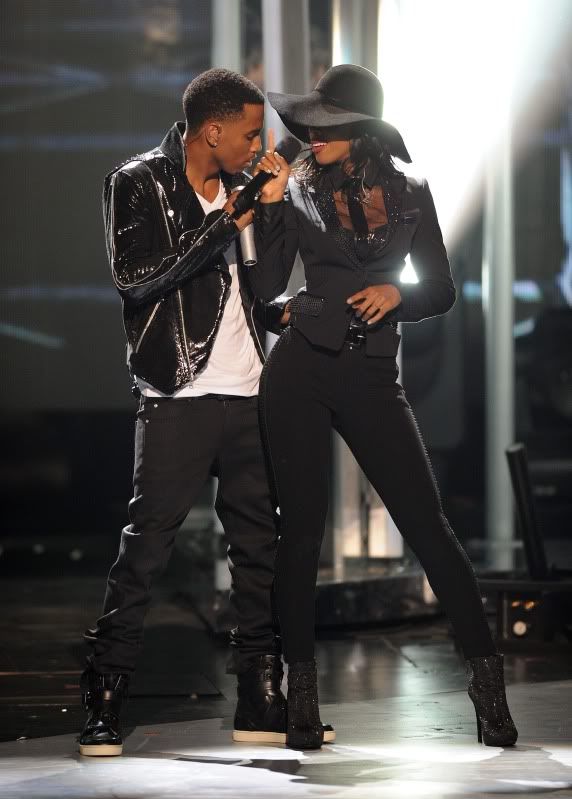 I still Question the styling choices of both of these outfits, but it seems to be their signature. They are cute, and a custom MCM Jacket with always rock. Mode Creation Munich is one of my favorite brands, so I totally have a bias.