So I came across this new elf collection that is limited edition called 24k!
I am not really a big makeup person, I own 2 elf palates (and like them a lot). Are they as good as Mac? NO, BUT Its good every day type of make up, I have a few paint pots from MAC that a friend gave me.They are not similar at all.ELF is more light to medium coverage, appropriate for daytime. Mac is full coverage and HIGHLY pigmented. For the price, ELF is not horrible, and I recommend darker colored shadows, the eyelash curler, the eyelid primer and studio brushes. DO NOT BUY any of the light colored shadows (they look flaky and chalky) or mascara. The mascara is nice at first, but flakes off during the day.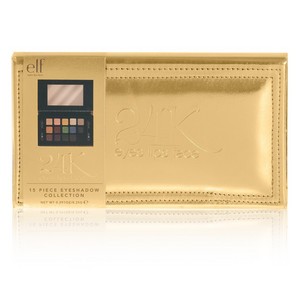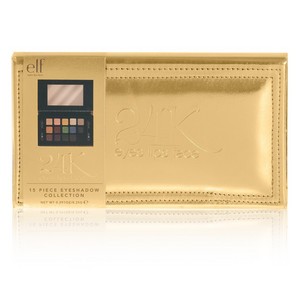 With any pencils and eye shadow use the eyelid primer, trust me. I have both UDPP(Urban and ELF and they work the same. Elf has a finish that you can see (on my skin) but it really hold my eyeshadow (of any brand) well. The UDPP is clear but WAY more expensive. I only use UDPP for special occasions or particularly humid days.
You can shop it online here: http://www.eyeslipsface.com/24k