The long awaited interview with the awesome jewelry designer Dareen Hakim has arrived! She was so sweet and I'm infinitely inspired but her creations. I can't wait to watch what's next.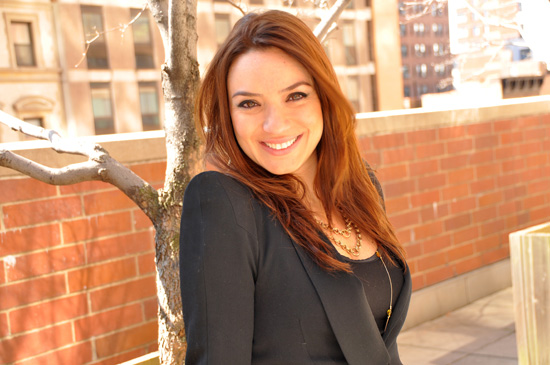 Hi Dareen, first off thank you for taking time out to do this interview! I love your handbags, can you explain the inspiration behind them for my readers?
Hey Mara! Thank you for taking the time to interview me. I would love to give your readers a better understanding and view of our brand. I started DHC nearly 3 years ago with a clear inspiration in mind, my home-land of Beirut. My Lebanese culture has been my greatest inspiration for this collection. My country has been ravished by turmoil for centuries, yet our people have never given up and have always worked hard to come out ahead. Beirut has such strong cultural customs and traditions that have entirely molded me into the person I am today. So this bag line was created to represent the strong roots of my culture and to break cultural divides around the world.
I love how your hardware is very meaningful and not just a typical DH logo. I see diverse styles are trending up, I myself an obsessed with the Nazar, and have seen the Hamsa a lot lately. Do you have any personal connections with the phrases you pick for your bags?
The arabic messages on our hardware range from "Happiness is a journey" to "Smile and the world will smile back." I feel like these are messages which everyone can relate with. Day by day we encounter many difficulties in life, however what defines us as people is how we take these experiences and learn from them. These messages inspire, and make people value life and the world a little more. I too love the Nazar and the Hamsa… I keep them on me for luck and security. My messages are meant to bring each person their own feeling of contentment through their day or night.
Do You have a favorite bag? (I bet that is like asking which child is your favorite, lol)
My very first-born, Le Icon, haha! It is the start of this journey for me and means a lot to me, truly embodying the vision of the brand. But again, I have to also mention Le Beiruti. This bag is meaningful to me because when I first designed it everyone was against it. They said it would never sell because it's "too unique" with its asymmetry and unexpectedness. Yet, it came so naturally to me and I believed in its artfulness, and certainly didn't want to be held back by what was not "standard"… fashion is meant to be different. So I developed it and even named it after my homeland to show how much I believed in it. Now I can proudly say that the Beiruti is a fan favorite and one of our best sellers.
I am obsessed with your diversity and the fact you speak several languages, do you plan on traveling to other countries to build collections off of inspiration?
I absolutely love exploring different cultures around the world. I love hearing and learning new languages and looking at the diversity of the people excites me. I tend to name many of my bags after different luxurious cities around the world that I've had the fortune of visiting and building memories in… traveling is so inspiring to me, and mixing together the experiences into my inspiration is always very fun and pleasantly surprising when you see the final result.
You also have a degree from Harvard? When you attended did you know that when you graduated you would work in fashion? Or was it something organic that just had to happen.
For my entire life I always thought I would go to Med-School but then Business took over that journey. I worked on Wall Street covering the healthcare industry, while in the back of my mind, always wanted to start a business of my own. As a creative individual, I never thought I could combine what seemed like polar opposites, but after going back for my MBA and realizing that building a successful business starts with passion before skills, I felt I had the formula to take the plunge and try to make my dreams a reality. And up to this point everything has worked out fabulously.
What do you do when you are not busy working of production for your handbags?
Well when I am not taking care of my growing business, I am nurturing and caring for my growing family. I have an amazing husband and a beautiful new baby girl named, Mila, whom I love with all my heart. She is growing up so fast and I want to be there guiding her every step of the way.
Will you ever branch out and make other accessories or even clothing? (because you are definitely inspiring my jewelry doodles right now!)
Yes! I want to extend my brand to cover many different types of categories, especially jewelry! I have always dreamt of expanding into an entire lifestyle brand. However, at this point we are getting our foot in the industry and my main focus will continue to be my signature bags. But as they say, the sky's the limit … and I'm a big believe of being able to do what you put your mind to!
Are you working on any special projects currently?
Right now I am working on releasing a special scarf collection from which proceeds will benefit St.Judes Research Hospital. I feel like we have a duty as humans to serve others. We have to help people which are less fortunate than us and are going through difficult times. So that being said, philanthropy is very important at the Dareen Hakim Collection. Another project that we are currently featuring on behalf of our company is a "Ship for Charity Event." For the Month of July we are donating 100% of our customer's shipping costs to the Multiple Sclerosis Foundation. So every bag you buy off our website www.dareenhakim.com, the shipping fee you pay will go straight to MS, and essentially we are paying for your shipping. My Father has lived with MS for years thus this organization is very near and dear to my heart.
[I'm sorry to hear about your father. I'm glad you are working for such a great cause! ]
Is there anything else you want my readers to know? (you can post social network links here or anything else).
I would first and for-most like to thank you for featuring me on your blog. We absolutely love our Mara here at Dareen Hakim. And for our new followers we would like invite you all to check us out on Facebook in order to stay updated on all things DHC. I have also listed our other social media platforms to learn more about our inspiration, and just silly things around the office ;)
Facebook.com/dareenhakim
Dont forget to check out her handbags at dareenhakim.com!