Another week has passed and I guess in doing these posts it's cool to know that not every week is the same thing.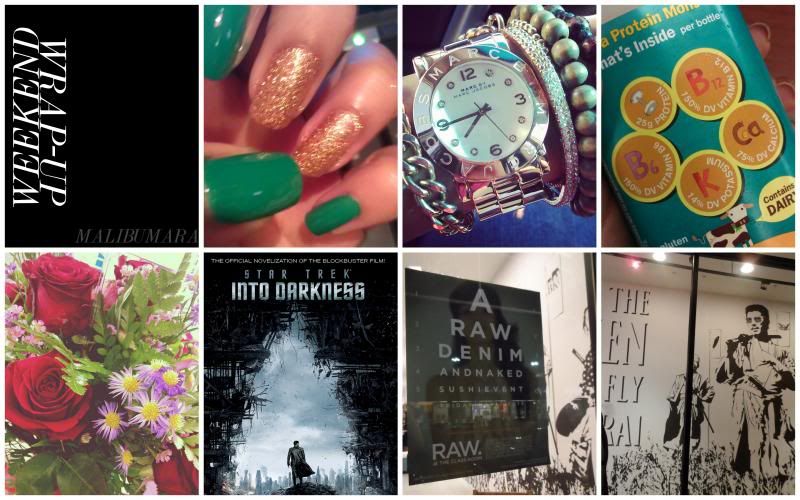 From left to right, starting from the top:
1.)Did a little jade love and gold accents for the week. Green is a power color, channels wealth, or something like that LOL.
2.)New watch yo! The Marc Jacobs Amy, you can purchase it
HERE
.I wore it to work BUT its faded on the links :( SOOOO Its a going out watch, not an office watch. BOOO! I would return it but I bought mine online through Amazon and don't want to deal with a weird online return process (do I need to bring up what happened with my Nike Roshe Runs again?)
3.) So I tried a new grab and go protein shake thing from Odwalla because I can't find my blender and I need to gain some weight. At least put on some muscle. Tryna tone my arms and stuff, ya know.It's sooooo good. Stupid me forgot what the front looks like so I can't formally recommend it yet!
4.) My sweet gentleman sent me flowers just because! Well I'm feeling special and stuff :) they're so pretty, and it's funny because I like keeping fresh flowers in my room, it really livens up any space. Not to mention how great they smell.
5.) Inner nerd girl alert. Star Trek Into Darkness was AMAZING. Basically the Wrath of Khan Remake premiered on Thursday night and J.J. Abrams gets majjj claps and snaps for the direction of this film. Visually awesome and action packed, I say this is already the must see summer blockbuster. No complaints about the casting, its just a perfect movie go see it and let your inner nerd out. On a scale of 1-10 its a 1701.
6/7.) I went to the Raw event at the Classroom, Full post up on MONDAY. That event included naked sushi, You'll want to come back and visit to see what that was all about.
HAPPY WEEKEND!