SO we all know my obsession with OPI shatter polish, until recently. It dried out :/ I mean, u did use it for like 2 months straight every week, but still... It was $9.50! Anywho, I have been seeing pictures of china glaze crackle, but I thought it looked chunky. BUT, I bought it in pink from a salon, and i must say, I must be a shatter pro, bc it looked FAB: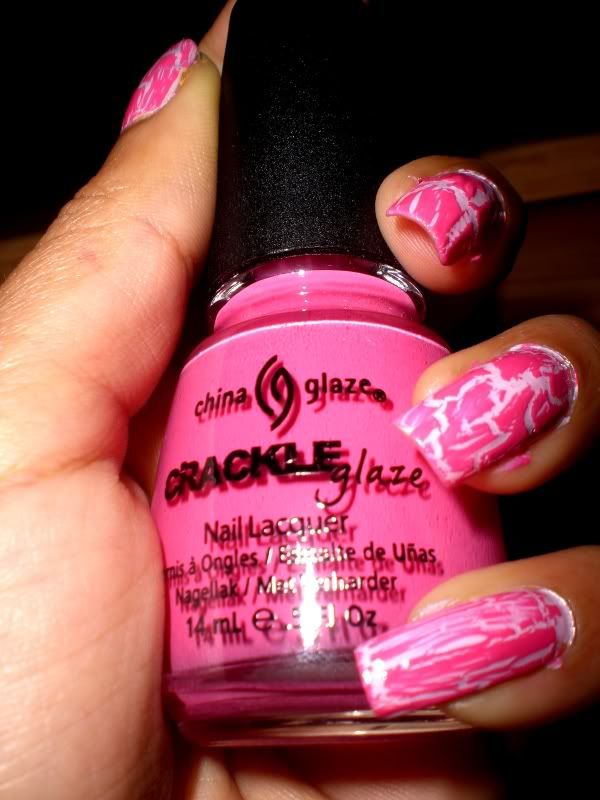 Ignore the stray polish on my skin LOL. But, I love it, and it was $7.00! They have tons of other colors but I think I'm going to replace my black OPI with a China Glaze one. It applied more like a gel and was shiny as it dried. The OPI dried very matte, and had a strong chemical smell, while the China Glaze was like a typical polish smell. Not like I sniffed it or anything! I hate the smell of nail polish, isn't that odd?! I am obsessed with nail polish, so that is funny.
IN other news, OPI has expanded their shatter collection, and it will be avaliable in MAY. Im not sure if I will purchase any, however, the TURQUOISE color is screaming my name. I might invest in a nail polish thinner to maintain the consistency of the OPI polish.